Who are we?
The first Butterfly Farm in Saint Martin opened its doors to the public in 1994. It is also called La Ferme Des Papillons because of its location on the French-side of the tiny dual nation Caribbean Island of St Martin/St Maarten. It was designed and built by two eccentric Englishmen, William Slayter (owner) and John Coward.

Four hurricanes later William decided to open another Farm in Aruba with his great friends Tony and Lori Cox who became partners in the venture. The doors were opened there in May 1999. Since then thousands of visitors have been welcomed to the Farms.

William remains at the Farm in St Martin today and is still entertaining visitors on his tours with his quirky British humor! Tony and Lori continue to thrive in Aruba.
NOTE: The Butterfly Farm in St Martin remains CLOSED since being destroyed bycategory 5 hurricane Irma, Sept 2017.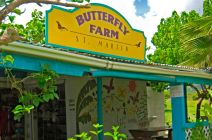 Entrance to The Butterfly Farm St Martin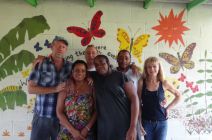 Staff from left to right..William, Beverly, Pete, Pierre, Tito, Pam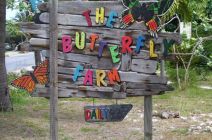 Driftwood sign, Aruba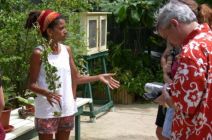 Guided tour, Aruba
What an enchanting tour! Too bad it wasn't longer. Peter, gave an enlightening and informative lecture about a butterflies life! Then we strolled thru the magical gardens as hundre ... read more

Visiting the Butterfly Farm in St. Martin was the highlight of our Caribbean Cruise! We came home with outstanding pictures and a memorable experience. We are planning to plant som ... read more

My husband and I visited the Butterfly Farm in January 2017 as one of our cruise excursions. It was one of the highlights of our trip. Our only wish is that we had more time to tak ... read more

I LOVE visiting when I'm in Aruba. I go every day! Tony and Lori and their staff are so friendly. They make you feel like you belong at the farm! Nancy

I just visited the butterfly farm in St. Marten, and it was very good. I came from Freedom of the Seas, a cruise ship about 5 days ago.