Who are we?
The first Butterfly Farm in Saint Martin opened its doors to the public in 1994. It is also called La Ferme Des Papillons because of its location on the French-side of the tiny dual nation Caribbean Island of St Martin/St Maarten. It was designed and built by two eccentric Englishmen, William Slayter (owner) and John Coward.

Four hurricanes later William decided to open another Farm in Aruba with his great friends Tony and Lori Cox who became partners in the venture. The doors were opened there in May 1999. Since then thousands of visitors have been welcomed to the Farms.

Tony and Lori continue to thrive in Aruba but sadly The Butterfly Farm in St Martin remains CLOSED since being destroyed bycategory 5 hurricane Irma, Sept 2017.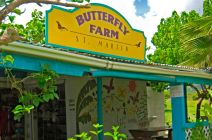 Entrance to the old The Butterfly Farm St Martin (closed)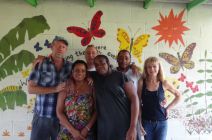 Staff from left to right..William, Beverly, Pete, Pierre, Tito, Pam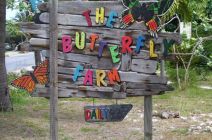 Driftwood sign, Aruba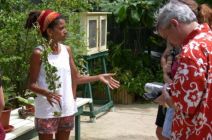 Guided tour, Aruba
Recently visited the Butterfly Farm and Molly was fantastic! So informative, friendly, welcoming and clearly passionate about butterflies. A special thanks to our tour driver Nic ... read more

This was my first visit to St. Marteen. I was really excited for the Butterfly Farm tour and I was not disappointed! I love butterflies and I was very happy to learn ways to foster ... read more

We stopped by the farm on January 29 2016 on our way to the airport going home. I sure wish that this was our first stop, not our last. The farm is perfect. Our guide was very k ... read more

The Butterfly Farm on St. Martin is a magical place.

We absolutely loved the Butterfly Farm! One of the most unique excursions one can take on St. Martin. We'd been there once before and could never capture those elusive blue creatu ... read more