Who are we?
The first Butterfly Farm in Saint Martin opened its doors to the public in 1994. It is also called La Ferme Des Papillons because of its location on the French-side of the tiny dual nation Caribbean Island of St Martin/St Maarten. It was designed and built by two eccentric Englishmen, William Slayter (owner) and John Coward.

Four hurricanes later William decided to open another Farm in Aruba with his great friends Tony and Lori Cox who became partners in the venture. The doors were opened there in May 1999. Since then thousands of visitors have been welcomed to the Farms.

William remains at the Farm in St Martin today and is still entertaining visitors on his tours with his quirky British humor! Tony and Lori continue to thrive in Aruba.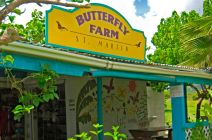 Entrance to The Butterfly Farm St Martin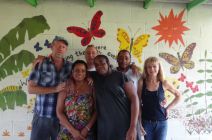 Staff from left to right..William, Beverly, Pete, Pierre, Tito, Pam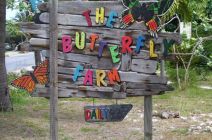 Driftwood sign, Aruba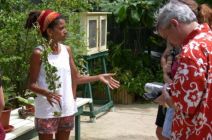 Guided tour, Aruba
We visited your Butterfly farm in St. Maartin and loved our host, the butterflies and the tranquil setting. However the biggest impact on us was the story plight of the butterflies ... read more

Amazing place, with some of the most beautiful butterflies I have ever seen. This will become a new "must stop" every time I visit Aruba.

Visited April 2013, Probably the highlight of our trip to Aruba. It was magical. The people running the place, the grounds and of course the butterflies were spectacular. The wh ... read more

Visited the butterfly farm in St. Martin. It was fantastic. Recommend it to everyone.

I just visited the butterfly farm in St. Marten, and it was very good. I came from Freedom of the Seas, a cruise ship about 5 days ago.