Who are we?
The first Butterfly Farm in Saint Martin opened its doors to the public in 1994. It is also called La Ferme Des Papillons because of its location on the French-side of the tiny dual nation Caribbean Island of St Martin/St Maarten. It was designed and built by two eccentric Englishmen, William Slayter (owner) and John Coward.

Four hurricanes later William decided to open another Farm in Aruba with his great friends Tony and Lori Cox who became partners in the venture. The doors were opened there in May 1999. Since then thousands of visitors have been welcomed to the Farms.

William remains at the Farm in St Martin today and is still entertaining visitors on his tours with his quirky British humor! Tony and Lori continue to thrive in Aruba.
NOTE: The Butterfly Farm in St Martin remains CLOSED since being destroyed bycategory 5 hurricane Irma, Sept 2017.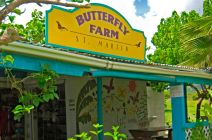 Entrance to The Butterfly Farm St Martin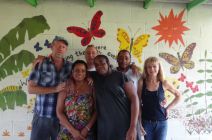 Staff from left to right..William, Beverly, Pete, Pierre, Tito, Pam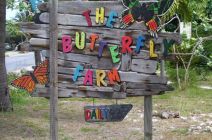 Driftwood sign, Aruba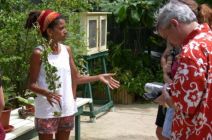 Guided tour, Aruba
We really enjoyed our visit it like a jungle of butterflies!

It was wonderful visiting your Butterfly Farm, we are ordering the plants to try and help

I loved it! Just I need to order seeds to attract them... AND HAVE MY OWN!!!!!!!!

Great visit, in St-Martin. We were extremely satisfied to learn so much about all these butterflys through our french guide, Thomas. He was very professionnal and passionate in tr ... read more

Well done... we enjoyed an outstanding visit with you folks. Our tour was booked thru Celebrity Cruise Lines. We hope to be back again. Keep up your good work.