Who are we?
The first Butterfly Farm in Saint Martin opened its doors to the public in 1994. It is also called La Ferme Des Papillons because of its location on the French-side of the tiny dual nation Caribbean Island of St Martin/St Maarten. It was designed and built by two eccentric Englishmen, William Slayter (owner) and John Coward.

Four hurricanes later William decided to open another Farm in Aruba with his great friends Tony and Lori Cox who became partners in the venture. The doors were opened there in May 1999. Since then thousands of visitors have been welcomed to the Farms.

Tony and Lori continue to thrive in Aruba but sadly The Butterfly Farm in St Martin remains CLOSED since being destroyed by category 5 hurricane Irma, Sept 2017.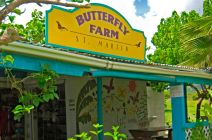 Entrance to the old The Butterfly Farm St Martin (closed)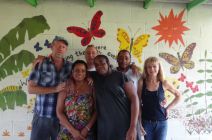 Staff from left to right..William, Beverly, Pete, Pierre, Tito, Pam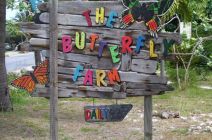 Driftwood sign, Aruba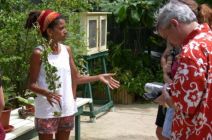 Guided tour, Aruba
My wife and I recently were able to visit through Carnival Cruise Line excursions and thoroughly enjoyed our visit. The Butterfly Farm is certainly a gem not to be missed by anyon ... read more

Such a magical place! Simply a joy to behold!! The sheer beauty of these magnificent butterflies is amazing. You feel a part of this place as you follow them around. What excitemen ... read more

Enjoyed our visit last week. Very informative and the butterflies are truly beautiful. A true gem.

The butterfly farm was beautiful and the staff was very friendly!

Visited the Aruba farm and am inspired to start attracting butterflies to my yard. Thanks.