Pupa Care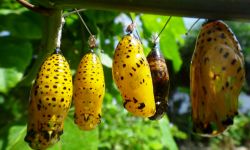 Pupae
How to take care of your pupa?
At some point your caterpillars will have done with eating. They will then crawl up to the top of the container (or onto the provided sticks) and pupate. It is best to carefully remove them at this stage to another suitable container (like the caterpillar container).
Remember newly emerged butterflies must be able to hang high enough so that the tips of its wings will not touch the ground when they are fully expanded. If a new butterfly does not have enough vertical and horizontal space for its wings to expand and dry, its wings will not form correctly and the butterfly will not be able to fly. Your pupae do not need food or water. An occasional misting of the container will help keep the environment humid, which is necessary for healthy pupae. If the pupa is on a stick, carefully move the stick to the new container with enough space. If the pupa is at the top of the caterpillar container attached to the kitchen roll or cloth carefully cut around the material and pin to the top of the new container. If the pupa has fallen off , you can still hang it by placing a dot of UHU (or any 'tacky') glue on a piece of cotton wool or paper and then place the tip of the pupa on the slightly dried but sticky glue. Hold the pupa on the paper a few seconds to allow the glue to harden. Now the pupa can be hung by pinning through the paper onto a piece of cardboard or cork attached to the top of the new container. Most butterflies will emerge from their pupa after around two weeks. However, if your caterpillars pupate in the fall there is a good chance that they will remain in their pupae until Spring. Remember that your diapausing pupae are still alive. Keep the cage humid with occasional misting.
Most butterfly pupae will either turn dark or become clear when the butterfly is ready to emerge. When this happens, be especially sure that your cage is humid. Keep a careful watch! It only takes a few seconds for a butterfly to come out of its pupa and it usually emerges in the mornings! Dead pupae often turn very dark.
Such a magical place! Simply a joy to behold!! The sheer beauty of these magnificent butterflies is amazing. You feel a part of this place as you follow them around. What excitemen ... read more

In 2009 I was there three times with my late wife Cara...I couldn't get her to leave! I've been wondering what hurricane Irma did to you all and if you will be able to rebuild. Goo ... read more

The butterfly farm was amazing! U have to go see it. We r going again!

We had a great time visiting in St. Martin. The butterflies were beautiful as was the talk by our well informed guide. My only regret is we didn't get to spend more time as the O ... read more

We went to the Butterfly Farm in Aruba this morning. We loved it. One of the butterfly's landed on my companions shirt and stayed there almost the entire time we were there. I will ... read more