Butterfly Release
What to do when your butterflies emerge?
Before your butterfly emerges be sure to provide sticks that hit the bottom of the container so a fallen butterfly can climb up the sticks to find a place to hang. After emerging your butterfly will need to 'hang' for a few hours to dry it's wings. It is kindest to release the butterfly after 3-4 hours and a great joy to watch the creature you have raised fly off to freedom! Of course if your garden is planted with host and nectar plants the butterflies will stay!!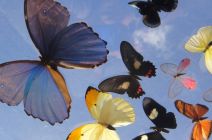 A cloud of butterflies
Pete and the visit to The Butterfly Farm of St. Martin was the highlight of my Ruby Princess cruise! (4/1/2012-4/8/2012) It was truly a joy to see these wonderous creatures so clo ... read more

In 2009 I was there three times with my late wife Cara...I couldn't get her to leave! I've been wondering what hurricane Irma did to you all and if you will be able to rebuild. Goo ... read more

What a beautiful place! We really enjoyed the information we got from the speaker and the time walking around observing all the beautiful butterflies. I highly recommend this plac ... read more

Just visited the butterfly farm on St. Maarten - fantastic! A lovely, peaceful place to visit, excelletn viewing of the species, very informative guide. Highly recommended!

Keeping you and the rest of your beautiful island in my prayers after Irma.