Butterfly Release
What to do when your butterflies emerge?
Before your butterfly emerges be sure to provide sticks that hit the bottom of the container so a fallen butterfly can climb up the sticks to find a place to hang. After emerging your butterfly will need to 'hang' for a few hours to dry it's wings. It is kindest to release the butterfly after 3-4 hours and a great joy to watch the creature you have raised fly off to freedom! Of course if your garden is planted with host and nectar plants the butterflies will stay!!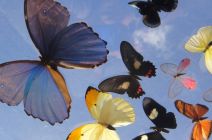 A cloud of butterflies
The butterfly farm was beautiful and the staff was very friendly!

The Butterfly Farm is amazing!! It is a small, family enterprise and it's run by a very friendly and knowledgeable staff. I really learned a lot and it is a wonderous thing to be ... read more

Had a wonderful day at the farm with the beautiful butterflies at St Maarten, staff was great and we learned a lot about how to care for the butterflies. Thank you.

my husband and i visited the butterfly farm and found it very interesting the butterflys were beautiful

Thoughts and prayers are with you all and your work. Visiting this pst year with our family is still something we talk about and share. Your passion and knowledge are amazing.