Butterfly Release
What to do when your butterflies emerge?
Before your butterfly emerges be sure to provide sticks that hit the bottom of the container so a fallen butterfly can climb up the sticks to find a place to hang. After emerging your butterfly will need to 'hang' for a few hours to dry it's wings. It is kindest to release the butterfly after 3-4 hours and a great joy to watch the creature you have raised fly off to freedom! Of course if your garden is planted with host and nectar plants the butterflies will stay!!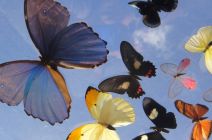 A cloud of butterflies
I took my 48 year old sister who is very ill from MD to your Butterfly Farm in St. Martin. This was her dream trip. Thank you for the great day that she will never forget.

Visiting your butterfly farm was one of the highlights of my cruise last February 2017. My heart goes out to you and the residents of Mr. Maarten after Hurricane Irma. Please let u ... read more

I have been to both farms in Aruba and St. Martin and love them both. What a wonderful learning experience for children of all ages and adults!

We would like to be kept informed as to how we can help the population of butterflies in our area, southwest Ohio, USA

We enjoyed visiting and learning at the Butterfly Farm. We plan to try to attract butterflys to our garden.