Butterfly Release
What to do when your butterflies emerge?
Before your butterfly emerges be sure to provide sticks that hit the bottom of the container so a fallen butterfly can climb up the sticks to find a place to hang. After emerging your butterfly will need to 'hang' for a few hours to dry it's wings. It is kindest to release the butterfly after 3-4 hours and a great joy to watch the creature you have raised fly off to freedom! Of course if your garden is planted with host and nectar plants the butterflies will stay!!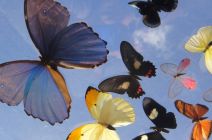 A cloud of butterflies
A very special visit while recently on a cruise. It was something that I will not forget.

was at butterfly farm a few years ago and got inspired to raise monarchs also.i am from michigan and just collected first batch of eggs 2 weeks ago.i have 17 chrisalis now hanging ... read more

I visited the farm on Saint Maarten on April 18th. It was the best $15.00 I've spent in a long time. Our guide was a chap from England who gave a funny and informative tour. It was ... read more

We visited in St. Martin on Tuesday Feb. 28, 2012 while cruising with Princess. We LOVED our trip to your beautiful butterfly farm! Thank you for sharing and teaching us about butt ... read more

Ik ben in de vlindertuin geweest dit jaar in de caraiben ik vond het fantastich en de mensen die er werken doen zo hun best!!Proficiat en doe zo voort! Succes nog!