Butterfly Release
What to do when your butterflies emerge?
Before your butterfly emerges be sure to provide sticks that hit the bottom of the container so a fallen butterfly can climb up the sticks to find a place to hang. After emerging your butterfly will need to 'hang' for a few hours to dry it's wings. It is kindest to release the butterfly after 3-4 hours and a great joy to watch the creature you have raised fly off to freedom! Of course if your garden is planted with host and nectar plants the butterflies will stay!!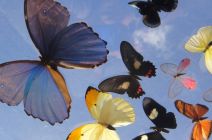 A cloud of butterflies
What a wonderful visit to The Butterfly Farm in Aruba on Tuesday, May 15. Our tour was great & we learned some much from our guide. We even returned early the following morning t ... read more

I LOVE visiting when I'm in Aruba. I go every day! Tony and Lori and their staff are so friendly. They make you feel like you belong at the farm! Nancy

We loved all the beautiful butterflies and learned so much!! Thank you and we want to come back soon!

The Butterfly Farm is a photographer's heaven. In less than 1 hour, I shot over 400 pictures with a Sony SLRT, Alpha 58 series, & a 200 - 400 mm Tamron zoom. The result are breath- ... read more

I loved it! Just I need to order seeds to attract them... AND HAVE MY OWN!!!!!!!!