Butterfly Release
What to do when your butterflies emerge?
Before your butterfly emerges be sure to provide sticks that hit the bottom of the container so a fallen butterfly can climb up the sticks to find a place to hang. After emerging your butterfly will need to 'hang' for a few hours to dry it's wings. It is kindest to release the butterfly after 3-4 hours and a great joy to watch the creature you have raised fly off to freedom! Of course if your garden is planted with host and nectar plants the butterflies will stay!!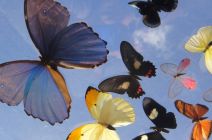 A cloud of butterflies
Just recently visited the Butterfly Farm on St. Maarten. It was delightful! Our guide was excellent, and the farm was lush with plants, ponds, and fountains, and of course, many ... read more

It was magical. I can still see it in my memory as happening in slow motion.

Recently visited the Butterfly Farm and Molly was fantastic! So informative, friendly, welcoming and clearly passionate about butterflies. A special thanks to our tour driver Nic ... read more

Visiting the Butterfly Farm in St. Martin was the highlight of our Caribbean Cruise! We came home with outstanding pictures and a memorable experience. We are planning to plant som ... read more

I thought you have a very beautiful and informitive web site. keep up the good work.