Butterfly Release
What to do when your butterflies emerge?
Before your butterfly emerges be sure to provide sticks that hit the bottom of the container so a fallen butterfly can climb up the sticks to find a place to hang. After emerging your butterfly will need to 'hang' for a few hours to dry it's wings. It is kindest to release the butterfly after 3-4 hours and a great joy to watch the creature you have raised fly off to freedom! Of course if your garden is planted with host and nectar plants the butterflies will stay!!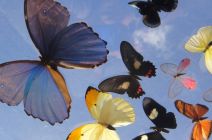 A cloud of butterflies
Such a wonderful place to visit! I could have spent the whole day there! Guides were very friendly and informative, I'd venture to say that they have a dream job! Wish we would ... read more

We had a grand time at the butterfly farm in st maartens :) both my husband and i learned alot about butterfly's William was a good host we will come back .i recommend the visit to ... read more

What an amazingly beautiful butterfly farm you have. All the information we received while visiting was quite refreshing! Soo much we didn't know about these colorful little creatu ... read more

I have been to both farms in Aruba and St. Martin and love them both. What a wonderful learning experience for children of all ages and adults!

The farm was enchanting! We really enjoyed our visit.