Visitor Information
Imagine walking through a lush tropical rain forest amidst flowers and trees, ponds and a trickling waterfall with butterflies flying overhead and all around you in their own natural paradise. This is a dream come true at The Butterfly Farms in St Martin and Aruba. Within large meshed enclosures you can see hundreds of real exotic butterflies flying freely, a beautiful display of the most spectacular species from all over the world...


Entrance includes a free return pass for the duration of your vacation!
Open all year, daily
Aruba 8-30 am - 4-30 pm (last tour starts at 4pm )
St Martin 9-00 am - 3-30 (last tour starts at 3pm)
Guided tours run all day, they last for approximately 15 to 20 minutes and you are welcome to stay for as long as you like. Photography and video no problem!
Where are we located? check our map!
Each Farm has a great shop selling a huge selection of butterfly-related gifts and souvenirs. Refreshments are available in the shady cafes outside. Parking and restrooms on site.


Some tips: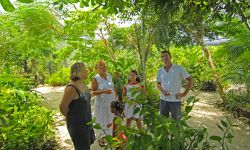 Visitors at the Butterfly Farm
An essential part of the visit to all the farms is the famous "guided tour". Visitors are shown the evolutionary cycle from microscopic eggs, to strange and exotic caterpillars, pupae resembling exquisite designer jewelry. You can also witness all stages of their life cycle from tiny egg to curious caterpillar and jewel like pupa. Early in the morning is the best opportunity to see a butterfly emerging from its pupa and watch newborn butterflies take their first flight! If you want to handle the butterflies and caterpillars our guides will be happy to show you how to do so without damaging these fragile creatures.
We had a wonderful time at your farm. I wish we had more time though. Tour from Independence of the Seas 11/19/2013. We live in central Florida and will get right on the gardening. ... read more

Thank you Willie! Our trip to your farm was a wonderful excursion. We appreciated your talk and loved the butterflies. This summer we will do more planting in our small yard to ... read more

I've always wanted to visit the Butterfly Farm and it did not disappoint! The butterflies were great to observe, very beautiful. Tito impressed us with his knowledge on our tour. D ... read more

Beautiful, Our guide was well informed and patient. Learned a lot. Well worth the ride. Anna

The farm was enchanting! We really enjoyed our visit.